A Legacy in Action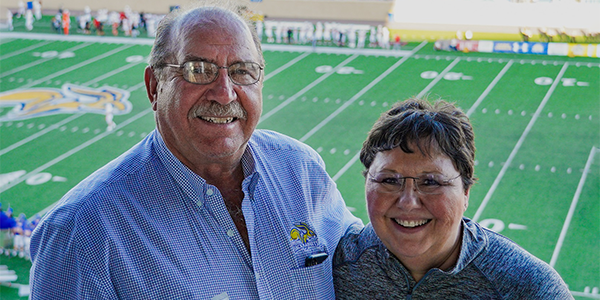 By Lura Roti
During SDSU functions, Melody and Jim Mielke are often asked, "What year did you graduate?" Their response often comes as a surprise. "We aren't SDSU alumni - we are a different sort of donor."
Like most, leaving a legacy matters to Jim and Melody, and the couple sees investing in Jackrabbits as an impactful way to do this.
"With no children, we got to a point in our life where we asked ourselves, 'Is there a way to leave a legacy?'" said Melody, a resource nurse at Avera Heart Hospital in Sioux Falls.
"Something more than, 'Oh, yeah, I remember that guy. He farmed west of Sioux Falls,'" added Jim, a fourth-generation Minnehaha County farmer. "We wanted to address this in a meaningful way."
The Mielkes sponsor five scholarships by gifting grain before it is sold, funding scholarships annually in agronomy, ag engineering, precision ag, nursing, and graduate nursing. To ensure the scholarships are funded into perpetuity, they are working with the SDSU Foundation's Office of Gift Planning to endow the scholarships as part of their estate plan.
"When we pass away, we want these scholarships to continue," Melody explained.
Honoring their lifelong careers through these scholarships is meaningful to the Mielkes, who are passionate about their chosen professions.
Growing up, Jim says he always knew he wanted to be a farmer. "I didn't participate much in extracurricular activities in high school because I could not wait to get back to the farm."
Just out of high school, he started Mielke Trucking so he could have an income while working alongside his dad and brother. Jim continued the Mielke family farming tradition on the land homesteaded in 1881 by his great-grandfather, Frederick.
"With the farm, my goals were always, 'The sky's the limit,'" Jim said.
When their dad retired in the early '80s, the family raised crops and cattle on about 500 acres. Over the years, Jim and his brother expanded and operated about 2,400 acres of corn, soybeans, alfalfa, and pasture.
Like Jim, as a child Melody always knew what she wanted to do. "I have always been fascinated by the human body. My Grandpa Ernest was a doctor and would take us on house calls," she said.
Melody has spent most of her 40-year nursing career working as a cardiac critical care nurse. She was instrumental in opening the Avera Heart Hospital in Sioux Falls. Over the decades, she shared her knowledge, teaching Heart Hospital staff, paramedics, and nurse practitioners.
"Nursing is the perfect combination of science and art. Sometimes I help people live and sometimes I help someone die. There is all this high-tech equipment, and yet the human touch remains critical."
Because they started planning early, the couple gets to see their legacy in action. They make a point to attend donor receptions and meet the students who receive their scholarships. Over the years, they have developed meaningful relationships with some recipients and their families.
"This process has been incredibly rewarding," Melody said. "Because we are both still working, we have ended up working with graduates who either are our scholarship recipients or know our recipients. We feel fortunate."