Our Turn to Give Back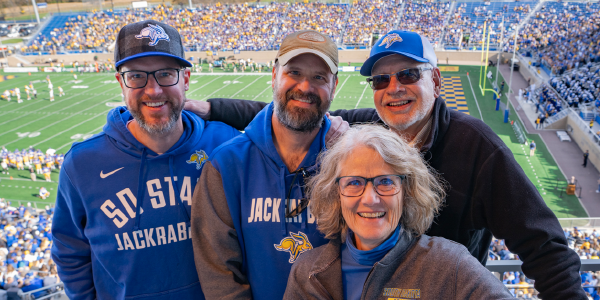 South Dakota sunsets are among Ven Lengkeek's favorite images to post on Facebook. Recently, a young friend from Milan, Italy, commented on a photo, saying he wanted to bring his toddler son to visit Ven and his wife, Deb, in Brookings so they could witness the natural phenomenon together.
The Lengkeeks met these young friends on a visit to Budapest in September of 2021.
"We love international travel, and we love meeting international people and getting a different perspective on the world," explained Deb, who grew up in Raymond, South Dakota.
"The world is large, and it has become smaller for us through travel," added Ven, who grew up in Volga. "We are hoping we can bring some of the international world back to South Dakota and share with South Dakotans what a wonderful, beautiful world is out there."
To make this a reality, the SDSU graduates worked with the SDSU Foundation's Office of Gift Planning to create an endowment that supports international students studying at SDSU. It is one of five university areas of impact the couple fund annually through a charitable IRA rollover. Because they also named SDSU as one of their beneficiaries, after they are gone, their estate will endow the five areas equally into perpetuity.
In addition to the international affairs endowment, Ven and Deb also endowed funds to support the South Dakota Art Museum, the South Dakota Agricultural Heritage Museum, McCrory Gardens, and the Robert Pengra Scholarship in Microbiology.
"The nice thing about an IRA gift is that it is not taxable," Ven said. "We can give to the U.S. government and have no idea where it goes, or we can take the same money and give it to SDSU and stipulate exactly where it goes."
This means a lot to the couple, because each entity they fund is motivated by personal experiences or memories.
One such personal connection is the South Dakota Art Museum. Deb shared that she has been a frequent visitor since it opened its doors in 1970. It was her freshman year, and, as a home economics student, for class credit she sewed all the costumes for Macbeth, one of the first plays performed in its auditorium.
As for McCrory Gardens, Ven explained that, as a work study student at McCrory Gardens, his interest in research was piqued. As an undergraduate wildlife and fisheries major, his job was to help graduate students with data setup and collection for their research projects. The experience launched him on the educational path that eventually led to a Ph.D. in agronomy from SDSU and a successful career. Ven spent most of his career working for industry-focused research and the development of active ingredients to control plant pests and diseases. Integral to his success was the instruction, mentorship, and guidance he received from Dr. Robert Pengra, SDSU Professor of Microbiology.
"Looking back, the education, the professors, and the experiences at SDSU shaped my career and what I did for my entire life," Ven said. "The university gave us so much. We feel it's our turn to give back."