Nelsons Choose to "Give-It-Twice"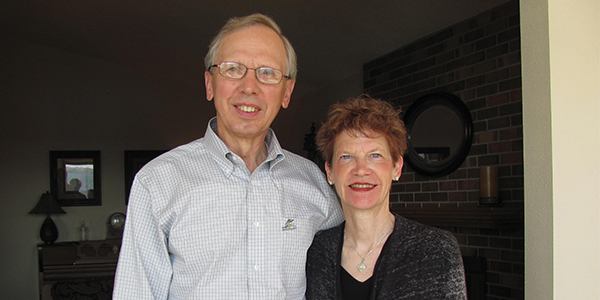 With the right kind of planning, there's no need to split an estate between heirs and charitable institutions.

The "Give-It-Twice" Plan allows heirs and charitable groups to each have 100 percent of the estate.

That's what Jeff and Trudi Nelson of Wentworth found out by working early on their estate planning with the SDSU Foundation's Office of Gift Planning.

Philanthropy was a driving force for the Nelsons as they began their estate planning. They sought to impact their favorite causes, while looking beyond their own estate to provide for future generations.

"We both value the principle of giving help to others," said Jeff Nelson, who worked for East River Electric Power Cooperative for 39 years, including 24 as general manager. "Creating endowed funds for charitable and educational purposes allows us to create a positive legacy for the next generations."

SDSU was only one of the philanthropic causes that the Nelsons will support through their planning.

A three-step plan helped create that legacy for the Nelsons: when both have died, a part of their estate goes directly to their children as an immediate inheritance.

Another part of the estate goes into a charitable trust, making payments to four charities at a fixed amount for 20 years and ultimately dispensing the principal plus growth to their children.

Simultaneously, a third portion of the estate will pay 5 percent to their heirs for 20 years, ultimately dispersing its principal to the Nelson Family Scholarship that benefits students in the Jerome J. Lohr College of Engineering.

In effect, 5 percent paid per year over 20 years equals 100 percent of the estate to charities and 100 percent to the Nelson heirs.

"The Foundation helped us create a legacy giving plan which enabled us to meet the multiple goals of supporting our family, SDSU, and several other education and charitable purposes," Nelson said. "We would encourage others to try it."

The Nelsons graduated from SDSU, as did their son, Erik. Jeff also serves on the Foundation's Council of Trustees. They felt it was only natural to give back to State.

"SDSU provided both of us with an opportunity," Nelson said. "We were raised in families which valued education and made sacrifices to allow us the privilege of attending college. Choosing SDSU as a beneficiary of our estate is a way for us to also help others have the same opportunity."