Farm Legacy Supports Research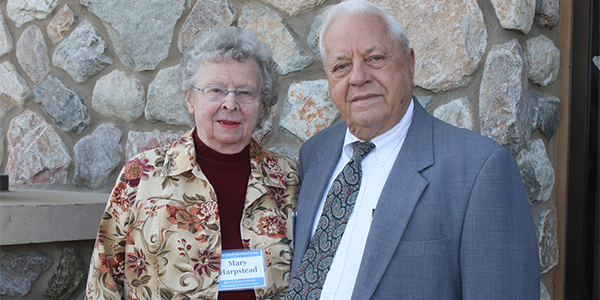 Dale Harpstead first learned about SDSU when he was a member of 4-H and FFA judging teams. After visiting the campus, he never thought of going anywhere else.
He graduated with a degree in agronomy and then returned to get his master's. After getting his Ph.D. at the University of Nebraska-Lincoln, he became assistant professor in agronomy at SDSU.
In 1961, he joined the agriculture program of The Rockefeller Foundation and went on to serve as professor and chairman of the Department of Crop and Soil Sciences at Michigan State.
In 1984, he joined The Board for International Food and Agriculture Development, Department of State, Washington, D.C.. After retirement, he served on the board of directors of Self Help International, a private foundation working in Ghana and Nicaragua.
Dale knows firsthand how difficult it can be to get funding for research, so he and his wife, Mary, worked with the SDSU Gift Planning team and gave a half-interest in their family farm to SDSU to support graduate research — a legacy gift that will continue to benefit SDSU students for years to come.
"My time at SDSU exposed me to the larger world," Dale said. "The larger world of science, the larger domain of political activity. SDSU launched me into what I have done with my life and gave the basics for the successes I've enjoyed."
"As a family we have concluded that this is the right time to convert a piece of farm land into a monetary resource that can be invested in students – students who will have their own dreams and visions to support them in both traditional and unique ways as they struggle to find their life's path." – Dale Harpstead