Give-It-Twice Helps Professors Take Time for Research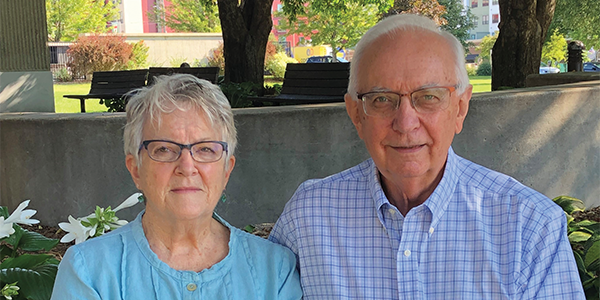 By Lura Roti
The balancing act between teaching and research can be a difficult one for university professors to navigate. As a former professor, Dr. Richard Vetter has experienced that.
"I was a professor. I know how difficult it is for professors to squeeze in time to research problems," said Richard, who became a Jackrabbit in 1961.
Together with his wife, Janice, Richard established an endowed professorship to support a professor within the College of Natural Sciences to temporarily step away from teaching and focus their time solely on research.
When the Vetters started to revisit their will, the couple's first step was contacting the SDSU Foundation Office of Gift Planning to explore how they could achieve their philanthropic goals through their estate plan. The Vetters implemented the Give-It-Twice estate strategy to establish the professorship.
"Give-It-Twice expands what we can do with our resources," Richard said. He explained that Give-It- Twice allows them to stick with their original estate plan: giving their remaining assets to their daughters, Stephanie and Pamela, and a few local charities. The difference is, instead of allocating funds in one lump sum, the funds are invested in two revocable trusts created inside their will. These trusts will support their daughters on one hand, and also their charitable pursuits on the other.
All of Richard's 40-plus- year career involved research and balancing it along with many other daily responsibilities. He spent the early years of his career as a university professor, followed by 30 years at Mayo Clinic.
With a Ph.D. in bionucleonics, Mayo researchers often called on Richard for his expertise in radiation as they studied new ways to diagnose and treat disease.
"It was challenging, and I enjoyed the challenge," said Richard, who retired in 2010 as Mayo Clinic's Medical Director for Safety. "When research involved radiation, I was brought into the room to talk through a question. I was interacting with world- renowned researchers. And although I was only helping them with one small aspect of the problem they were investigating, it felt like I was making a significant contribution."
When he reflects on his career, Richard credits the critical thinking and research skills he developed as an undergraduate and graduate student at SDSU.
"I need to underscore the critical thinking skills I developed and the strong emphasis on basic science and research methods," Richard explained. "SDSU gave me what I needed to move forward."
Growing up on a Castlewood, South Dakota, farm, Richard initially chose SDSU because he was interested in agriculture and had a strong desire to teach, not farm.
Halfway through his bachelor's degree, a keen interest in science led him to refocus his major to botany biology. It was in the botany biology department that he got to know Professor Gerald Meyers - the man Richard credits with teaching him how to think critically and apply this skill to research.
"Critical thinking is especially important when approaching a research problem and solving it," he said.
After receiving a bachelor's in botany biology, Richard accepted a research assistantship, which covered graduate tuition costs.
"I would not have been able to get a master's without the assistantship," said Richard, who funded his bachelor's degree with dollars he saved through a land grant scholarship, working for SDSU in the agronomy department and as a resident assistant, and employment through the Castlewood Farmer's Elevator.
Around the time he accepted the research assistantship, Richard married his high school sweetheart, Janice. Like Richard, Janice needed to cover her own college costs. Her mom became a single mother to four after her father was killed in an accident.
"My mom set a good example for me," said Janice. "Even though she did not have much monetarily to give, and she always had a part-time job, she did what she could to help others."
Janice received an education degree from Northern State Teachers College and a master's in education from Purdue University. Janice taught elementary education for the first few years after she completed school. She went on to spend the remainder of her career working in social services, helping families in need.
When it came time to apply for a Ph.D., Richard said the experience he gained through the research assistantship paid off. All the prestigious Ph.D. programs he applied to offered him research assistantships, except Purdue University, which offered him a fellowship.
"SDSU prepared me well to apply anywhere I wanted," he said.
Richard went on to teach as an assistant professor in health physics (radiation safety) and then as a professor in health physics until he began his career at Mayo Clinic in 1980.
In addition to the professorship, Janice and Richard also utilized the Give-It-Twice strategy to sponsor two endowed scholarships.