Planned Giving Ensures That the Music Keeps Playing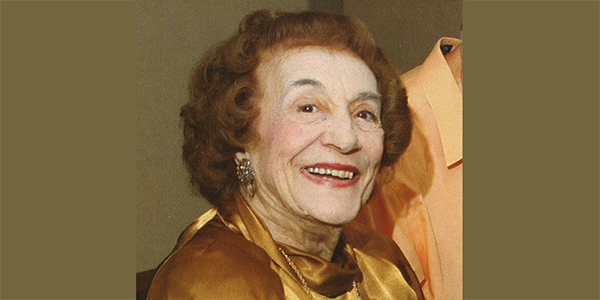 Patricia Pierce planned for some generous gifts to the SDSU Music Department through charitable gift annuities, a charitable trust, and a bequest in her will. However, sometimes planning her future giving wasn't enough for the music lover. Impatience took over and the music department was the better for it.
"She used the word 'now' an awful lot," said Director of the School of Performing Arts, David Reynolds. "'I want to enjoy this now. I want to see successes now.'"
Before her death on September 1, 2016, Pierce was able to enjoy seeing her funding of the Artist in Residence program change the performance and educational landscape in the music department. Every two years, the endowment generates $17,000 for the faculty member deemed the Artist in Residence.
"I think of it as being a scholarly bucket list fund," Reynolds said. "Everybody that's had the distinction for two years has used the money in very different and unique ways, and I think that's the wonderful thing about this. It's not a cookie-cutter kind of program."
Former artist in residence, associate professor Aaron Ragsdale, used the money to fund his participation in concerts in New York City, Chicago, and Minneapolis. He also commissioned percussion works from three composers that Ragsdale himself premiered.
"I used it to create some music, to get out and perform and expand the footprint of the department and expand the footprint of what we do here," Ragsdale said.
The expense of renting a venue in New York City or going it alone to commission new works of music is far beyond what Ragsdale could have normally afforded.
"It is completely outside the realm of anything I would have been able to do on my own," Ragsdale said.
Professor Laura Diddle used her award for international travel. Part of the funding helped defray her costs when the concert choir went to Spain.
The award also paid her expenses to attend a Conductors' Institute Program in Vancouver, British Columbia, where she worked with John Washburn, the Director of the Vancouver Chamber Choir.
"I really learned a lot about conducting techniques and styles," Diddle said. "It honed my conducting technique in a way that the students could better read my direction from the podium."
Pierce's generosity while she was alive rejuvenated the department's aging fleet of pianos. Music faculty offices are also teaching studios where professors offer private lessons.
Pierce's estate will fund eight $1,500 scholarships for each incoming freshman class of music majors.
"That fits right in with how much she truly enjoyed interacting with our students at concerts," Reynolds said. "She hardly ever missed a program when she was able to travel."
Traveling was a large part of Pierce's life before she resettled in Brookings in 2004. She grew up in Brookings, graduating from State in 1950 with a degree in history.
"She thought it was very, very important for folks to know that the world was bigger than Brookings and bigger than South Dakota," Reynolds said.
The planned gifts from Pierce help bring the world to Brookings with the establishment of the Visiting Artist Program.
"It brings world-class musicians, cutting-edge musicians to campus to interact with our students and then to ultimately perform on campus," Reynolds said.
Pierce's visitors would often hear about the concerts she attended in the great cultural centers of Europe.
"It costs an awful lot to send the choir to Europe," Reynolds said, "but if we can bring some of the great musicians and conductors here, that's a wonderful equivalent to what she did in her life."
Later in life, Pierce was an enduring presence at SDSU concerts. At choral concerts, Pierce was often in the front row, conducting right along with Diddle. After the concert, she was the first to praise students for their work.
"All they ever heard from Pat was, 'You are magnificent. You're wonderful. You're fantastic musicians,'" Diddle said. "It was very genuine. You could see it on her face."