Fan's Estate Will Help Support SDSU Basketball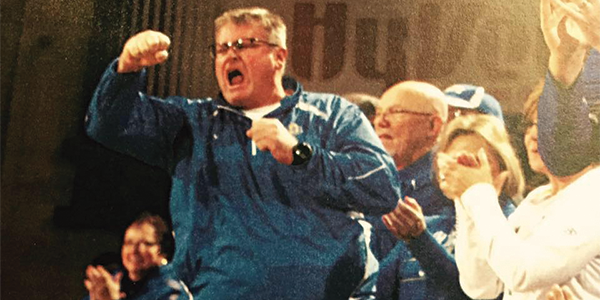 Fans of SDSU sports have different ways of showing their support. Some buy Jackrabbit gear. Others have season tickets to the games. Still others follow the Jacks faithfully on the radio or Internet.
Troy Anderson does all that and more, earmarking one-fourth of his estate for the SDSU men's and women's basketball programs.
A 1990 graduate who majored in agronomy, Troy began planning his estate at the age of 49. Some might think that's a little young for estate planning.
"I was basically getting my ducks in a row," said Troy, "just making sure we have everything on paper."
Before it got on paper, it had to be discussed with his wife and his grown children. The kids were fine with his gift to SDSU.
"They said, 'Hey, Dad, it's your money.'"
Though he's a big basketball fan now, Troy, originally from Albert Lea, MN, showed up at SDSU with a hockey stick and skates. He played club hockey for State.
Troy got his lessons in how to be a basketball fan from his father-in-law, Jerry Busick. "You just get into cow bell and following him," Troy said. "It was so much fun."
It was Busick's philosophy, and one that Troy continues to follow, that the SDSU student-athletes were more than a team; they were family.
"You follow their young adulthood," Troy said. "That was Jerry's philosophy."
Troy's fondest memory of SDSU basketball is a women's game against Penn State. Jerry's health had deteriorated. He needed a walker to get to his seat on the floor and needed help standing for the national anthem.
Busick asked for help standing again, this time to cheer at the end of the game when the Jacks won.
"He was so excited," Troy said. "That was his last game. That is the highlight of all my games."
In his will, Troy has directed that the money go to both the men's and women's basketball programs.
"There's no one team that's better," Troy said. "We love following them both."
A portion of his estate will go to both teams with no other restrictions on how it can be spent.
"As the needs of our student-athletes and coaches continue to evolve, so too, will our funding needs in order to remain competitive both regionally and nationally," said Scott Brown, senior associate athletic director for development. "The flexibility and discretion that Troy has provided the department will allow his gift to serve the greatest need at that time."
Troy has a simple explanation for including SDSU in his will: "I'm just a big basketball fan."