"Give-It-Twice" Allows Couple to Honor Heirs and Support Charities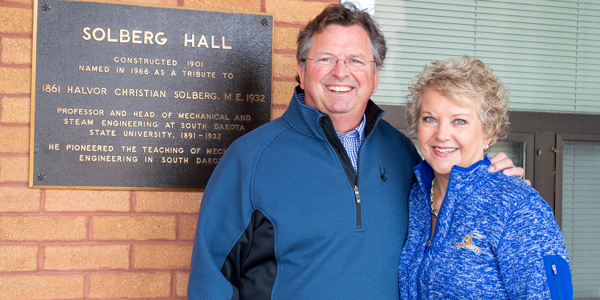 For most people, estate planning is a chore. For Keith and Cathy Rounds, it was a chance to make their dreams come true.
"It was an exciting, emotional opportunity for us to make a difference in many people's lives," said Cathy Rounds, who, with her husband Keith, sold Rounds Construction Inc. to their son.
The excitement and emotion came from working with the SDSU Foundation's Office of Gift Planning. Through the Foundation's team, the couple found out about the "Give-It-Twice" option that allows their estate to fulfill their giving wishes for their children, as well as their favorite charities.
While the details vary in estates, the "Give-It-Twice" option sets up a charitable trust that works on a simple formula: the estate makes 5 percent annual payouts over 20 years, equaling 100 percent to the income recipient and a matching 100 percent to charities.
In effect, Keith and Cathy could double their giving by leaving money to charity without compromising a penny of what they intended for their family. The plan helps to spread the benefit of inheritance to loved ones over time.
The concept that they could give their inheritance to their children and to charity caused some skepticism for Cathy and Keith.
"It took a long time to digest it," Rounds said. "It was almost too good to be true."
When the couple first began discussions with the SDSU Foundation, the Office of Gift Planning team was patient with their skepticism, and the Roundses liked the organization's approach to estate planning. The team focused not on redistributing wealth, but instead focused on making the couple's dreams a reality.
Their dreams were to provide for their three children, as well as their church, Habitat for Humanity, CASA, and SDSU. The portion gifted to SDSU will create a significant scholarship endowment for first generation students and impact McCrory Gardens, as well as the Alumni Association.
According to Rounds, in each case the Office of Gift Planning asked what they would like to contribute and then said, "This is how you can do it."
Seeing the impact their estate could make was an emotional time for the couple.
"Tears rolled down our cheeks," Rounds said.
Cathy and Keith worked on estate planning because there's no guarantee about what tomorrow will bring. There are no guarantees about what their future financial needs will be, either. That's why they like the fact that the trust is revocable.
"That's a real sense of comfort, too," Rounds said.