Schencks Fund Excellence for Future Jackrabbits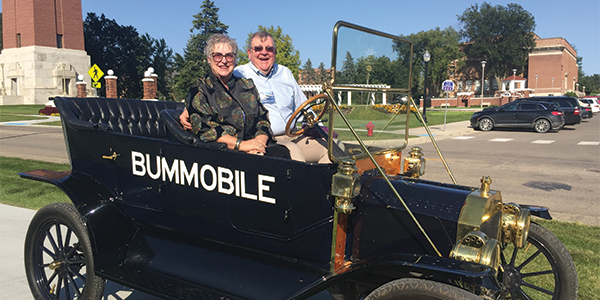 By Lura Roti
To Ted Schenck, nothing beats standing on the top of a mountain in Alaska, overlooking an ocean and watching Canada geese migrate.
"I would say, I got to live my dream. Not many people can knit their interests and hobbies into their job for their entire lifetime. This is what I got to do as a wildlife professional," Ted explained. Most of his career was spent working for Game, Fish and Parks and the USDA Forest Service. He worked in several states, including Alaska, South Dakota, and South Carolina. Ted said it was all possible because of the master's degree in wildlife biology he received from SDSU in 1971.
"The places I have been and the experiences I have had, and got paid to have because of my degree — I would have never been able to afford them otherwise," Ted said.
His wife, Paulette "Punkin," also credits her master's degree from SDSU to opening doors that eventually led to her dream career.
Although their starting point was the same - SDSU - as they reflect on their careers in retirement, the couple readily admits they each took a unique path to discover their dream career.
Ted knew from day one that he wanted a career focused on wildlife. As a kid growing up in the rural community of Spencer, Iowa, he and his best friend, Dennis Heien, got to know the local game warden. Being the avid outdoorsmen and hunters that they were, Ted said after learning about what the game warden did, the friends decided they would go to school for a degree in wildlife.
Deciding on a career did not come as easily for Punkin.
"I was a parent's worst nightmare. At one time I had five majors, and I didn't have enough credits in any one degree area to graduate," she said.
Punkin was finally able to complete her bachelor's degree seven years after she and Ted left Brookings for his first job teaching environmental studies at Plattsburgh University in upstate New York. She learned SDSU had recently introduced the general studies degree and worked closely with the dean of the program to graduate.
"The quality of instruction and the flexible way SDSU faculty work with students' situations always gave me the sense that everything being done was being done for the sake of helping students," Punkin said.
Bachelor's in hand, she was able to complete a master's in counseling. This master's degree allowed her to accept a position working as a high school counselor. It was when Ted accepted his dream job of working for the Forest Service in Sitka, Alaska.
At the time, it was among the only positions open in the small fishing community of 7,000. "I found the career I never knew I would love. The master's in counseling from SDSU really launched my professional career," said Punkin, who went on to teach university classes at several universities and complete a Ph.D. in counseling education.
More than the institution that launched their careers, SDSU was also where the couple met while competing on the SDSU Rifle and Pistol Team together. Ted, a senior at the time, had been competing on the team for three years when, on a whim, Punkin and her roommate signed up to compete on SDSU's first women's rifle team.
"Without rifle team, I don't think we would have met," Punkin said. "Because of this experience, we ended up shooting together in various types of things throughout the majority of our marriage."
In recognition of the role SDSU played in leading them both to find their dream careers and each other, the couple worked with the SDSU Foundation Office of Gift Planning and left a gift through their estate to benefit excellence funds for the Department of Natural Resource Management and the Counseling and Human Development program. Excellence funds are discretionary dollars that are used by leadership of the colleges to advance strategic priorities and elevate student and faculty aid.
The flexibility excellence funds offer SDSU faculty is the reason the Schencks chose to support them. Ted and Punkin explain that when they were students, these funds were used to help them out.
The first time, it was in the form of a $25 loan the winter after they married. Ted needed to repair his vehicle so he and Punkin could travel back and forth to campus for classes and graduate research.
Both Punkin and Ted said similar funds were utilized by faculty when they were students to cover the cost of professional conferences and field trips.
"Having funds available to faculty who understand their students' and departments' needs best is a way to offer practical help to future generations," Ted said.
Punkin added, "These funds help students connect with experiences that would otherwise be out of reach."